Served all day. Neon also offers bagels, donuts, and coffee all day.
Three eggs, cheese & choice of bacon, ham, sausage, turkey bacon, or turkey sausage. Served on English Muffin, bagel, hard roll, or toast. Add double meat for a little more!
Steak, egg, & cheese on a 6" roll
Make Your Own Sandwich
On sandwich bread, on a roll, or in a wrap
* indicates pricing for gourmet items or for any three deli meats
Roast beef, pastrami, corned beef, turkey pastrami, smoked turkey, honey turkey, pepper turkey, roast turkey, domestic ham, virginia baked ham, honey ham, cooked salami, genoa salami, pepperoni, hard salami, capicola, prosciutto, chicken breast, buffalo chicken breast, liverwurst, bologna, tuna, & homemade chicken salads*
Lobster (available every day, all year), crab cakes, salmon burger, tuna salad, and fresh lox. Our lox is the finest quality wild-caught Nova lox; also available for purchase in our deli.
mozzarella (fresh* and sliced), swiss, Alpine Lace swiss, provolone (domestic and imported), American (white and yellow), mild cheddar, muenster, cooper sharp, pepper jack, monterey jack, smoked gouda, feta, French brie
eggplant*, tomatoes, lettuce, sprouts, mixed greens, black olives, pappers (hot, sweet, roasted, banana, green, jalapeño), onions, cucumbers, pickles
guacamole*, hummus, pesto*, mustard (dijon, honey, spicy, yellow), chipotle sauce, horseradish, sauerkraut, ranch dressing, Thousand Island dressing, blue cheese dressing; bacon (1.25 extra charge any size, excludes BLT)
Some of Our Favorites
Dave's Toasty Turkey
Roasted turkey, provolone, oil & hots
Mike's Otter
Roast beef, tomato, onions, & mayo
We Got Annie's
Heated roast beef, BBQ sauce, cheddar, onions, green peppers, and ranch dressing
Bob's Cardiac Attack
Pastrami, provolone, & mayo on buttered roll
The Bus Driver
Meatball and muenster
Peppered Pirates Plunder
Pepper turkey, jack cheese, hot & sweet peppers, & honey mustard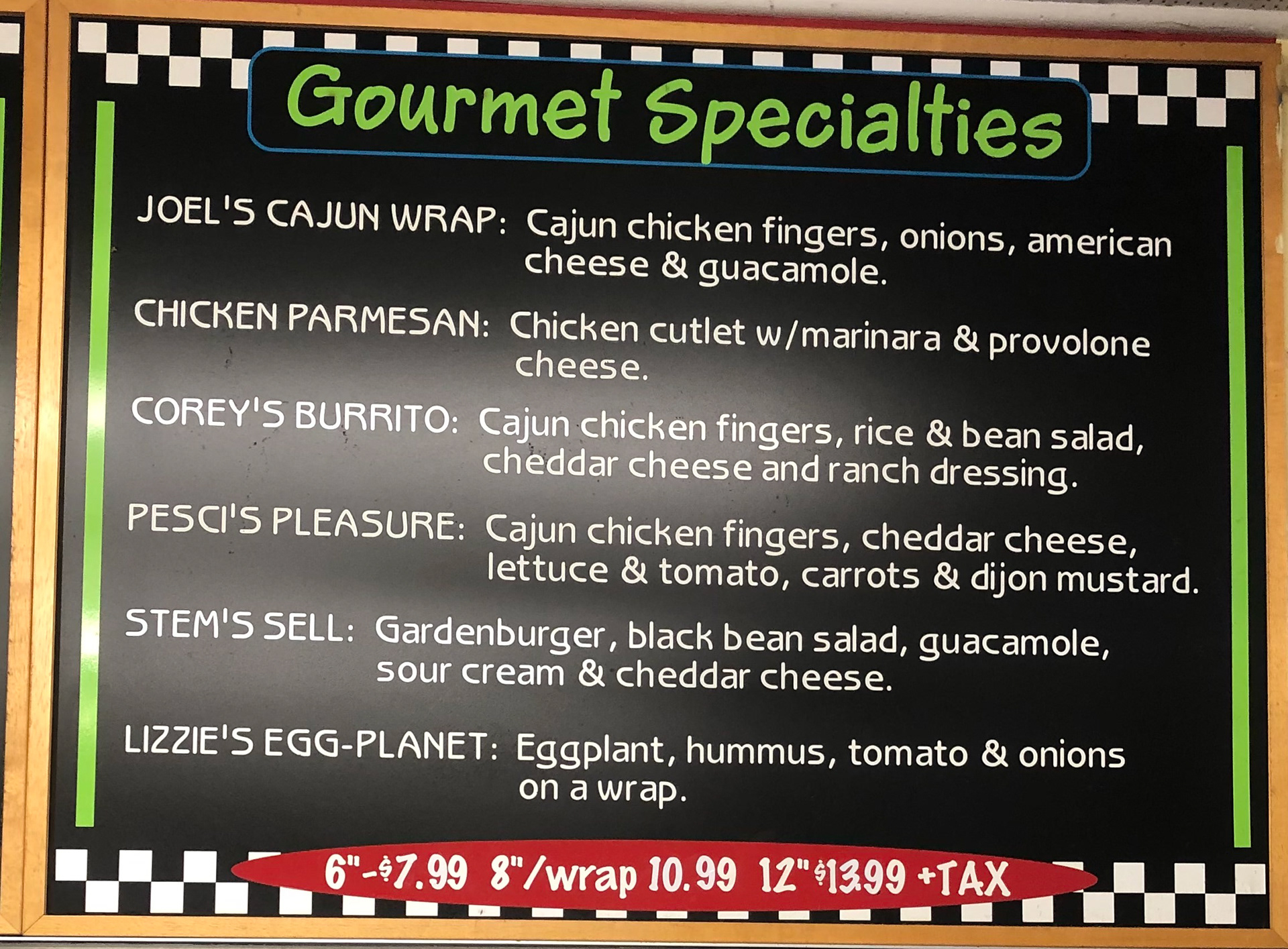 Gourmet Sandwiches
Chicken Parmesan
Chicken cutlet with marinara & provolone
Sussman Special
Chicken cutlet, pepperoni, provolone, onions, & black olives
Jen's Chicken Cutlet
hot sauce, & ranch dressing
Samalama's Reuben
Corned beef, swiss, coleslaw, & chipotle on rye
Sonya's Reuben
Turkey pastrami, swiss, sauerkraut, & Thousand Island Dressing on rye
Mangia Questo
Proscuitto, fresh mozzarella, roasted red peppers, oil, vinegar
,
& oregano
Terry's Tuna
Tuna salad, guacamole, tomato, onions,& black olives
Stem Cell 
Gardenburger, black bean salad, guacamole, sour cream, & cheddar cheese
Gil's Gardenburger 
Gardenburger, swiss cheese, & guacamole
Fran's Italian
Capicola, salami, prosciutto, provolone, oil, vinegar, oregano, lettuce, tomato, & sweet peppers
 Sock's Appeal
Toasted 12 grain, honey turkey, sharp cheddar, lettuce, tomato, sweet peppers, hummus, & mayo
Sophie's Choice
Turkey, roasted red peppers, fresh mozzarella, on whole wheat grilled
Panini
Pressed on a panini grill until crispy and hot.


Steve's Slander
Chicken steak, hot sauce, hot peppers, cheese, & sour cream
Noramel
Roasted turkey, fresh mozzarella, roasted red peppers, & pesto
Fire it Up!
Boneless wings of fire, blue cheese, & lettuce
MO' Tasty
Chicken cutlet, grilled eggplant, hot sauce, chipotle sauce, American cheese, & guacamole
Doug's Havin A Cuban
Salami, ham, roasted turkey, cheddar, lettuce, tomato, pickles, & mayo
How Hot is George?
Buffalo chicken salad, hot sauce, blue cheese, & grilled jalapeños
Black Market Gyro
Beef and lamb slices, tzatziki sauce, lettuce, cucumber, tomato, & onion on authentic Greek gyro bread with tomato and onions and capers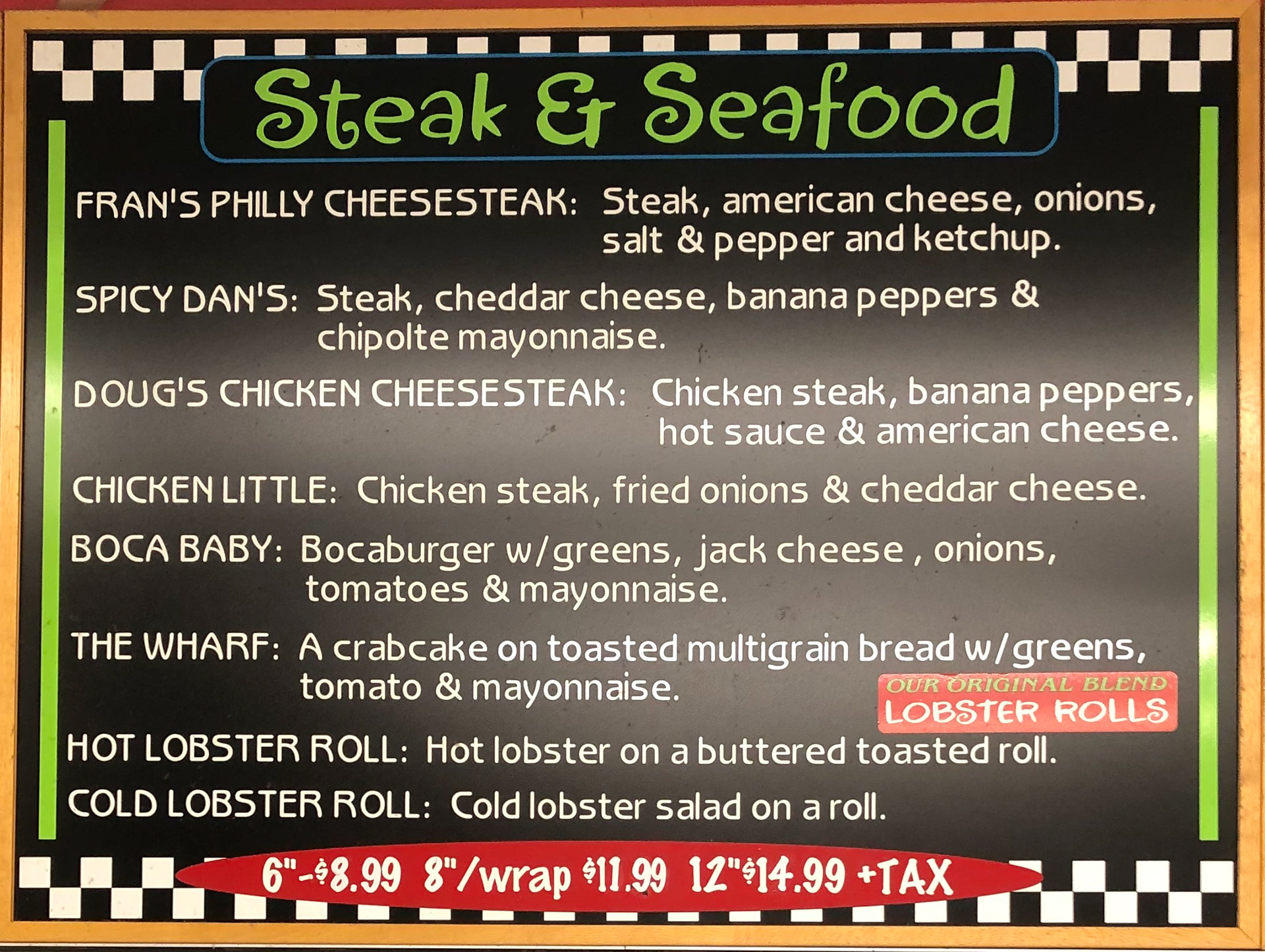 Cheesesteaks & Seafood
Choice of chicken or beef steak, grilled onions, peppers, mushrooms, and jalapeños


Fran's Famous Philly
Beef steak, American cheese, onions, salt & pepper, and ketchup
Spicy Dan's
Steak, cheddar cheese, banana peppers, & chipotle
Chicken Little
Chicken steak, cheddar cheese, & fried onions
Smokin' Moody
Chicken steak, smoked gouda, jalapeños, onions, & chipotle
Outrageous Lobster
Hot (lobster sensation)or cold (lobster sensation with Hellman's mayo) on a roll
The Wharf
Toasted multi-grain bread, crab cakes, mixed green, tomatoes, & mayo
Burgers

Choice of all-beef patty, turkey burger, black bean burger, or Gardenburger. Served on a hard roll with choice of cheese & toppings.


Joe's American
Beef burger, American cheese, lettuce, tomato, & mayo
King Arthur
Beef burger, swiss cheese, lettuce tomato, & ranch
California
Spicy turkey burger, jack cheese, onions, sprouts, lettuce, tomato, mayo
Curley's Samurai
Turkey burger, teriyaki sauce, sprouts, peppers, & chipotle sauce
Godzilla
Turkey burger, gorgonzola cheese, lettuce, tomato, & mayo
Uberburger
Beef burger, cheddar & swiss cheese, horseradish, hot sauce, ketchup, lettuce tomato, onion & mayo
Number 20 
Garden burger, swiss & cheddar cheese, sprouts, lettuce, tomato, & chipotle sauce